LOCALLY SOURCED
HUMAN-GRADE
100% NATURAL
AIR DRIED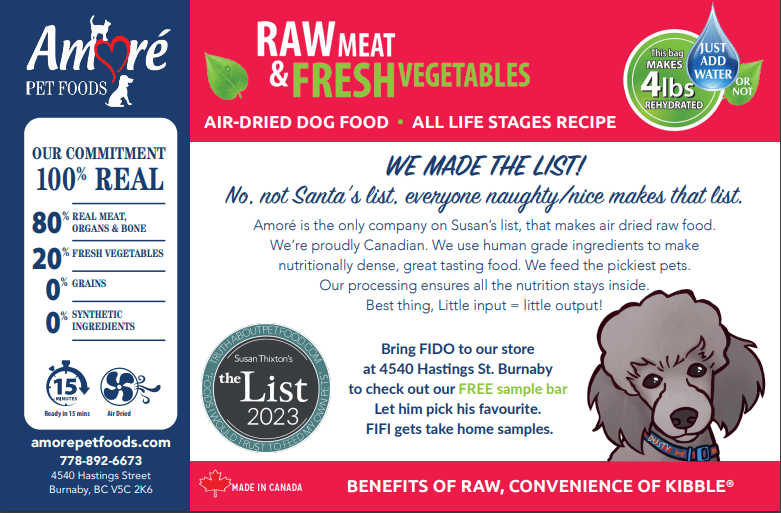 Your Best Friend Deserves the Very Best
As pet parents, we want to feed our furkids healthy food; but we have busy lives. Providing raw foods every day can be time-consuming, expensive, and let's face it – messy.
How would you like to: 
Provide your cat or dog with all the nutritional benefits of raw food… With the convenience of Kibble?
All while supporting a local Vancouver business? And most importantly – making sure that your furkid loves every tasty bite? 
Here at Amore Pet Foods in Burnaby Heights – just 10 minutes from downtown Vancouver – you can do all this and more. Nutrition-packed food… made in-house… and rave reviews by the most discerning furry customers!
Shopping is Simple – Click Here
_______________________________________________
Amore Pet Foods … Benefits of raw, convenience
of kibble™
100% of our food and treats for dogs and cats are made in our store in Burnaby, B.C. We offer a wide range of air-dried and frozen food.
What's air drying all about?
Air drying preserves the nutrition of the high quality ingredients we use, removing only water. The result is MEGA NUTRITION packed into tiny morsels. So your pet gets maximum nutrition – but you can store the food on the shelf and you don't have to remember to thaw!
Shop Mega Morsels and Mega Squares
Simply shop online and schedule a pick up. Or shop in store, and explore our selection of collars, leashes, dog beds, dishes, and toys.
With a free tasting bar in the shop, your furkids will never want to leave!